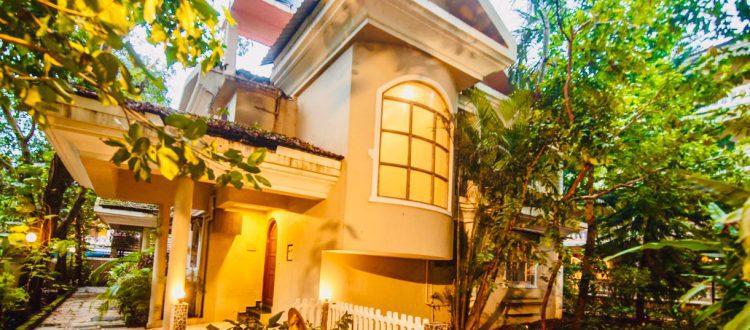 Exploring the Best Resorts in Calangute Beach in Goa
Exploring the Best Resorts in Calangute Beach in Goa
Goa is knew for its beautiful beaches and Calangute beach is one of the best of them. Located near the popular tourist destination of Baga. This beach is popular for its stunning views of the Arabian Sea, the white sand, and the many activities that can be enjoyed at it. From swimming, sunbathing to snacks, drinks, and shopping, Calangute beach in Goa has it all. The beach also has a wide selection of water sports like jet skiing, banana boat rides, and parasailing for those looking for a thrilling experience. This beach is one of the longest and widest in Goa. And hence is one of the best places to spend some time in the sun and also the Best Resorts in Baga and Calangute Beaches in Goa is Joiadomar Resorts in Calangute Beach. 
It is a must-visit place for those visiting Goa, and everyone should definitely experience the beauty and charm of Calangute beach. Calangute Beaches in Goa is the most visited beach in India!. It is located in North Goa and is known for its golden sand, blue waters and lush vegetation. Calangute beach is a great destination for families, couples, and friends, and provides activities for everyone. From water sports to beach shacks, Calangute Beaches in Goa are sure to provide an unforgettable experience. With its scenic beauty, lively atmosphere and endless activities, Calangute Beaches are undoubtedly one of India's most visited and beloved beaches. Whether you want to relax and sunbathe, or go on an adventure, there's something for everyone at Calangute Beaches. So, come and explore the beauty of Calangute Beaches and discover why it's Goa's most popular destination. Exploring the Best Resorts in Baga and Calangute Beaches in Goa
Beaches Near Resorts in Calangute Beach and Baga Beach
Looking for some beachside relaxation? Check out some of the best beaches near resorts located in Calangute Beach and Baga Beach Joia Do Mar Is Best Resort in Calangute Beach Goa. Calangute beach is known for its pristine white sand beaches, crystal-clear waters, and relaxing atmosphere. If you're looking for a more lively beach, then head to Baga Beach. There you'll find long stretches of clear waters and lively waves perfect for swimming, sunbathing, and surfing. For a coastal getaway without having to leave the resort area, consider staying in Calangute or Calacutta resorts. Both boast beautiful beaches adjacent to their properties, making it easy to enjoy the spoils of the Indian Ocean while still being close to all the amenities that today's travelers demand.
What is Joia Do mar Resort?
If you're looking for a luxurious getaway with stunning views, Joia do mar resort near Candolim might be perfect for you. The property offers several different types of accommodation, from rooms to villas, as well as several dining options. Plus, there are plenty of activities on offer for guests of all ages, including golfing, fishing, tennis, and more.
What's Included in the Price?
Aside from accommodation and basic entertainment options, each guest receives24/7 staff service and comprehensive safety and security measures. Additionally, there's always something to see or do near the resort – whether it's exploring the stunning local surroundings or sampling some of the delicious cuisine on offer.
When Is the Best Time to Visit Joia Do mar Resort?
The ideal time to visit is during the winter months when the weather is warm and sunny but not too hot. Alternatively, visitors can enjoy summertime days when temperatures are high but not unbearable. Either way, you're guaranteed an unforgettable experience at this luxurious resort!
Resorts Near Anjali Bay
Anjali Bay is located in the small village of Anjali on the southwest coast of Goa. The golden sand beach is flanked by lush forest and is known for its clear waters, calm powdery sea, and serene surroundings. One of the best resorts in Calangute Beach in Goa is Joia Do mar Resorts. Book Rooms near Calangute Beach.
Joia Do mar Resort Near Candolim Beach and Baga Beach in Goa
Candolim beach is easily accessible from the city of Panaji and has long been a favorite spot for tourists looking for unobstructed views and a wide range of activities on offer, including paddle boarding, parasailing, jet skiing and windsurfing.
Resorts in Sinquerim Beach and Calangute Beach.in Goa
Sinquerim Beach can be fi just west of Vagator town in Banas kantha district and offers stunningly clear water with gentle waves ideal for swimming, snorkelling and diving. It's also equipped with numerous restaurants, bars and cafes making it an ideal spot to spend a day or two!
Joia Do Mar Resorts Near Khanderao Coast National Park Khanderao
Coast National Park stretchesalong nearly 30 kilometers of coastline between Balaclava Point in the north to Talaipparai Point in the south and encompasses diverse habitats such as mangrove forests, salt pans, estuarine wetlands and tidal channels with marine Species including Sharks fin dolphins clam dredging crabiculture oyster farming fish breeding etc….